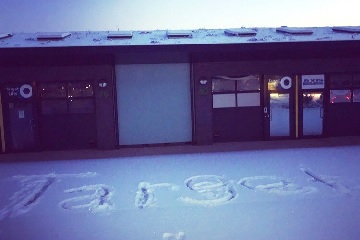 2nd March, 2018
LEIA welcomes new member – Target Lifts
It was well worth Nick Mellor braving the "Beast from the East" recently to visit Target Lifts – LEIA's newest member – and to meet the team.  Danny Garaway and Tony Howell-Smith exude a passion for their company and see gaining LEIA membership as a step in its development.  They value the recognition from membership […]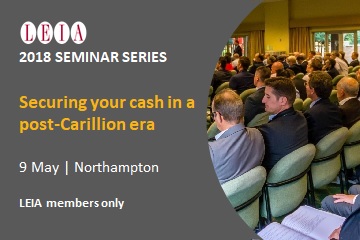 20th February, 2018
2018 SEMINAR SERIES – Securing your cash in a post-Carillion era.
How to better manage payment risks from job enquiry to final payment This half-day seminar will provide an introduction to the practical measures that can be taken to maximise your contractual entitlements, particularly those relevant to cashflow. Subjects to be covered include: contract fundamentals; T&Cs; variations; extensions; loss and expense; and the statutory payment requirements.  Speakers […]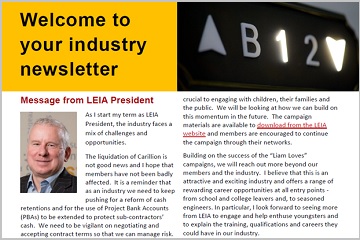 31st January, 2018
LEIA Newsletter – January 2018
"As I start my term as LEIA President, the industry faces a mix of challenges and opportunities.", Warren Jenchner LEIA President. See our January 2018 Newsletter to read the full article and other items that cover current and topical items affecting our industry. Previous editions of our newsletter can be found here.
LEIA is the trade association and advisory body for the lift and escalator industry, formed in 1997 by the merging of two long-standing associations with a history dating back to 1932.
With a membership of 158 UK registered companies covering 85% of the lift and escalator industry, LEIA represents a single voice for the sector.
LEIA members supply passenger and goods/service lifts, stairlifts, homelifts, lifting platforms, escalators, passenger conveyors and a range of component parts for such products. LEIA members also undertake the maintenance of over 250,000 products falling within the scope of the Association.
Join LEIA
LEIA members have unlimited access to a range of resources of the Association.
Our Work
Member representatives are at the centre of the Association's structure and work.