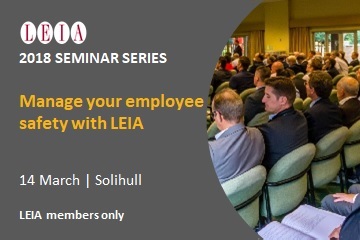 We are pleased to launch the LEIA Seminar Series for 2018, commencing with our Safety Seminar – Manage you employee safety with LEIA.
Date  |  14 March 2018
Venue  |  National Conference Centre (Motorcycle Museum), Solihull B92 0EJ
Time  |  09.00 – 14.00
As well as a presentation on escalator safety by Mark Truelove, ex-ThyssenKrupp, there will be a presentation on the development of the LEIA 10-year Competency Plan. In addition, you will be able to ask questions of a CDM consultant on the implications of acting as a Principal Designer.
Please login to view the seminar programme and make a booking (LEIA MEMBERS ONLY)
FORTHCOMING SEMINARS
9 May | CONTRACTS
31 October | TECHNICAL