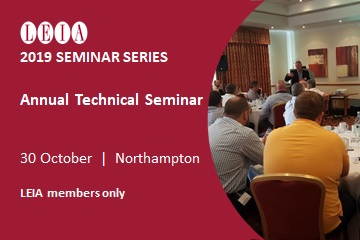 We will be holding our annual technical seminar at the Hilton Hotel, Northampton on Wednesday 30 October 2019.
Please find the below the programme giving more details on the content of the day.
To register your place, please contact Kathleen Harrison.
Please note: this seminar is open to LEIA members only.
Date     | 30 October 2019
Venue  |  Hilton Northampton  NN4 0XW
Time    |  09.00 – 16.00
Seminar Programme
Standards update – update on the revision, implementation and harmonisation of key standards; guidance on how to proceed where standards have not been harmonised by the European Commission; implications for regulations and standards from Brexit.
Life cycle of a lift – New lifts conformity assessment, early/beneficial use, testing and handover; existing lifts – PUWER, LOLER and thorough examination, modernisation and standards.
Revision of BS EN 81-70;  Accessibility to lifts for persons including persons with disability.
Lifts for fire and evacuation; update on new standard prEN 81-76 for evacuation lifts.
Machinery Directive Lifts update – revision of BS EN 81-40 (stairlifts), BS EN 81-41 (enclosed lifting platforms), development of EN 81-42 (vertical lifting appliances with enclosed carrier – "slow speed lifts"), BS 5900 (homelifts) and BS 6440 (non-enclosed lifting platforms).