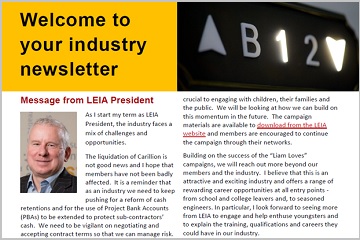 31st January, 2018
LEIA Newsletter – January 2018
"As I start my term as LEIA President, the industry faces a mix of challenges and opportunities.", Warren Jenchner LEIA President. See our January 2018 Newsletter to read the full article and other items that cover current and topical items affecting our industry. Previous editions of our newsletter can be found here.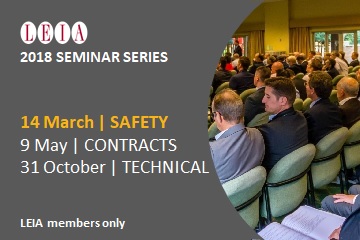 26th January, 2018
2018 SEMINAR SERIES – open for bookings
We are pleased to launch the LEIA Seminar Series for 2018, commencing with our Safety Seminar – Manage you employee safety with LEIA. Date  |  14 March 2018 Venue  |  National Conference Centre (Motorcycle Museum), Solihull B92 0EJ Time  |  09.00 – 14.00 As well as a presentation on escalator safety by Mark Truelove, ex-ThyssenKrupp, […]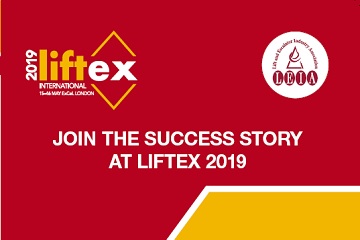 9th January, 2018
Exhibition space for LIFTEX 2019 in high demand
Since its launch last autumn more than 40% of exhibition space for LIFTEX 2019 has been snapped up. LIFTEX is the UK's leading event for the lift, escalator and access industry and is going from strength-to-strength. The 2016 event was, according to exhibitor feedback, the best ever in the event's 28 year history. Held every […]
LEIA is the trade association and advisory body for the lift and escalator industry, formed in 1997 by the merging of two long-standing associations with a history dating back to 1932.
With a membership of 158 UK registered companies covering 85% of the lift and escalator industry, LEIA represents a single voice for the sector.
LEIA members supply passenger and goods/service lifts, stairlifts, homelifts, lifting platforms, escalators, passenger conveyors and a range of component parts for such products. LEIA members also undertake the maintenance of over 250,000 products falling within the scope of the Association.
Join LEIA
LEIA members have unlimited access to a range of resources of the Association.
Our Work
Member representatives are at the centre of the Association's structure and work.