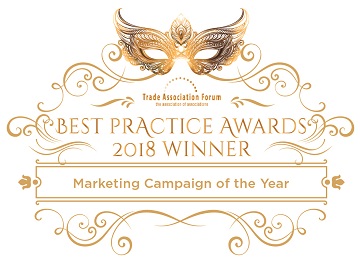 'Liam Loves Escalators', LEIA's latest child safety campaign was awarded 'Marketing Campaign of the Year' at the Trade Association Forum's (TAF) Best Practice Awards 2018. Held on 10th July at the historic Drapers' Hall in London, the Awards recognise, reward and promote best practice amongst trade associations in the UK and are a chance for TAF members to showcase their hard work and achievements during the last twelve to eighteen months.
Lawrence Dooley, LEIA Safety & Training Manager said: "We were absolutely delighted at the positive response we received to 'Liam Loves Escalators' across the country and we are thrilled to have won the Trade Association Forum Best Practice Award 2018 for 'Marketing Campaign of the Year'. It has been a pleasure to work with bandv on two successful children's safety campaigns and the reach we received on 'Liam Loves Escalators' has far exceeded all our expectations! Winning this award is testament to the hard work and dedication of everybody who worked on this campaign both at LEIA and bandv as well as the support from our members."
About LEIA
The Lift and Escalator Industry Association (LEIA) is the trade association and advisory body for the lift and escalator industry in the UK. With a membership of 158 UK registered companies covering 85% of the lift and escalator industry, LEIA represents a single voice for the sector.
About 'Liam Loves Escalators'
'Liam Loves Escalators' is the second instalment of LEIA's 'Liam Loves' safety campaign, which encourages children and their families to be safe when using lifts and escalators. LEIA has created a series of fun, free children's books for young children to enjoy and learn from.
www.leia.co.uk/safety/liam-loves-safety-campaign/
About bandv
bandv is an inbound marketing agency based in Southampton established in 1983. Using the latest in marketing automation and technology, coupled with awesome creative, the agency helps businesses gain a real return on their marketing budgets.